Living with supraventricular tachycardia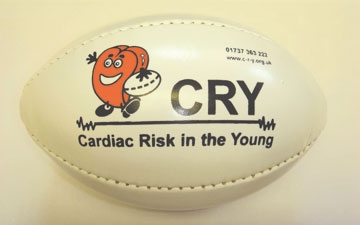 I am writing to thank you so much for your kind help and support that you gave to me at the end of last year when I telephoned CRY extremely worried about my son George.
If you remember, George is at Lord Wandsworth College and I was having terrible trouble getting him diagnosed with any problem at all.
As a mother I knew that things were not right with his heart, so I was getting even more worried and frustrated every time I was told that there was not a problem at all and everything was normal.
The day I found that rugby ball outside George's bedroom with the CRY logo on it and called you was the best thing that I could have done.
It was such a relief to be able to speak to someone that actually took me seriously! I am still disgusted that he was told by doctors that he was imagining his palpitations.
You were most helpful and supportive and I can't thank you enough for pointing us in the right direction and advising us to see Dr Sharma.
I am delighted to tell you that it turned out that George did have supraventricular tachycardia (SVT) and I can also happily tell you that on Monday he had an ablation carried out by Dr Mergatroyd at the London Bridge Hospital. It all went very well and appears that it was a complete success.
We are one of the lucky ones, in that George's condition isn't life threatening and he can now happily go on to live a fit and normal happy life. However, I am concerned, as I know from CRY that there are so many young people that are totally missed because they don't or can't see the specialists with the specialist testing that they need.
I fully support the excellent work that you are doing and the awareness that you are creating for those with cardiac risks and as a way of saying thank you to CRY I have made a donation of £200 online to your excellent and most worthy organisation.
Keep up the good work, and be assured that CRY is mentioned by us not only to family, friends and acquaintances but to doctors too!
Julia Ranger