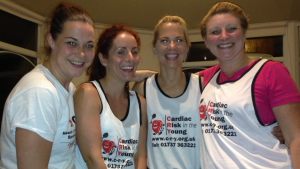 My brother died suddenly, aged 31, in Australia. He was very fit and healthy. As a result, my family and I had to undergo genetic heart testing. Some of my family, including myself, were diagnosed with a hereditary heart condition called Brugada syndrome.
Through this I was introduced to Cardiac Risk in the Young (CRY) – who support families affected by YSCD (young sudden cardiac death). I then became a member of CRY's myheart Network and met other youngsters diagnosed with heart conditions.
After attending myheart meetings and from discussions with other myheart members and the cardiologist, a common theme between members was the limited knowledge on how much physical activity can be done by youngsters who have heart conditions. I decided to become a fitness instructor with an aim to take 'Exercise to Music' classes at St George's Hospital for the rehabilitation of younger heart patients, to help them back into physical activity.
I did my training at YBFIT who supported my goals and aspirations throughout and I passed my ETM (Exercise to Music) Level 2 in June 2013, having exercised regularly at classes before I took my course. Since passing, I have been fortunate enough to share and cover classes of other fitness instructors at my local sports centre to help me practice my choreography and my teaching techniques.
I have also started a 'Body Conditioning Class' at our local school on Thursday evenings. This is great fun and attendees have varied fitness abilities. I love teaching classes and have gained so much more confidence in doing so. I dedicated my first class to CRY and donated all fees to them, raising £133.
Watch Paula and myheart member, Joseph Tanner, debate with CRY myheart cardiologist, Dr Michael Papadakis on exercising with an ICD below.