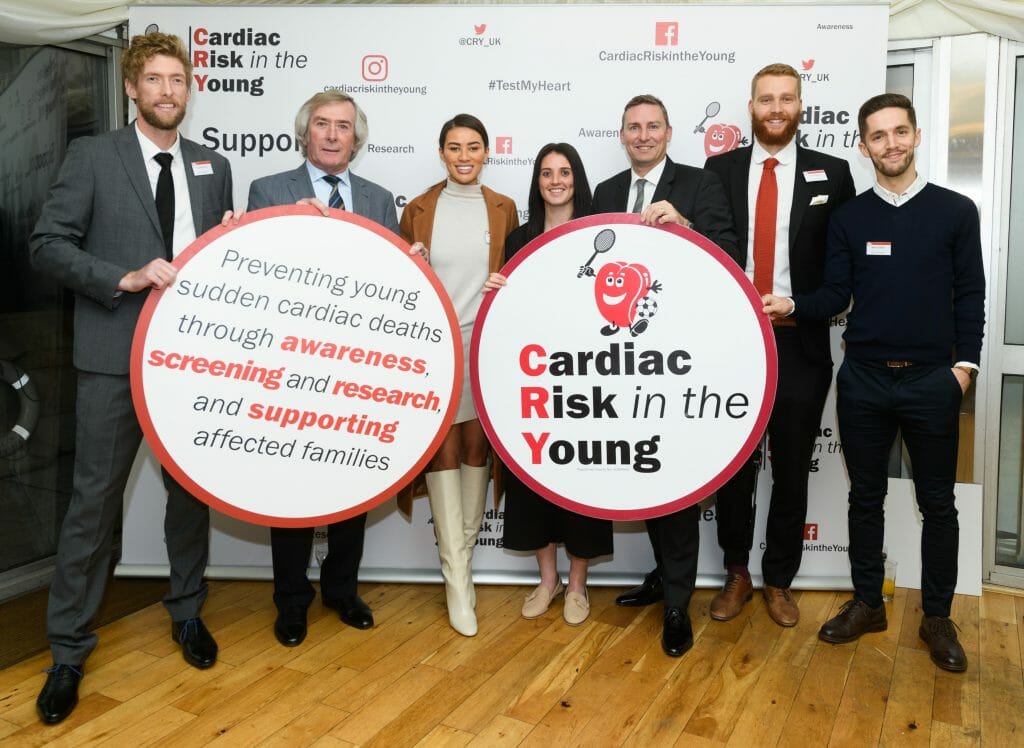 CRY's wealth of support continues to grow in new ways. For years our Patrons have supported us, accompanying the valued attention that celebrity brings with efforts to raise funds and awareness that we have always greatly appreciated. Now, we're expanding this kind of backing with a new role: CRY Ambassadors.
CRY is looking for individuals who have achieved recognition in their field, who can work with us to raise awareness and share our key messages with their followers. Ambassadors may also attend certain events and support CRY's campaigns, as Montana Rose Brown did last year with our #CRY4Friends campaign.
Most Ambassadors will have a personal connection to CRY's work, whether it's due to their own experience with a heart condition or knowing someone who has been affected.
See a full list of our current Ambassador's
To get to know a our ambassadors a little better, we spoke with Jade Moore about her experiences as a proffessional athelete after being diagnosed with a cardiac condition, the impact it had on her life at the time, and why she is so keen to support CRY.
CRY Parliamentary Reception 2018
It's been 11 years since Jade Moore's diagnosis. While waiting to head to an afternoon practice following a routine cardiac screening, she was suddenly told she'd have to stay put. The tests had found a hole in her heart.
"One of the first things that happened when they'd seen something on the first echo was they stopped me from going to training that afternoon," Jade said. "So, I think one of the first emotions was I wasn't scared, I was more frustrated at the fact that I would have naturally been training anyway, do you know what I mean? If I hadn't have had that scan. So, I was frustrated at the fact that these people had come and done the scan and were like, 'no, you can't train now.' And I was like, 'well, how is that even possible? I would have trained if you wouldn't have been here.' So, I think it was more the disbelief that they were stopping me doing something that I was at Loughborough to do."
A couple of days later Jade found out that there wasn't just one, but two holes in her heart. She had surgery and was able to return to playing football after about three weeks.
Jade explained that the biggest adjustment for her following surgery was being put on blood thinners.
"Obviously with football being a contact sport, after any sort of training or game if I'd had a knock I'd really, really bruise bad. Those were the things that would end up hindering me more in that sort of next six months when I'd come back from the surgery. They would be the thing that sort of either made me miss training or made me miss games, because I'd have a really big swelling on the leg if I took a big contact or anything like that… I'm quite a physical player when I play football, so it was very hard for me – I couldn't change that, so I had to deal with the aftermath."
Recent CRY-supported research, published in the New England Journal of Medicine, found that out of 11,168 young footballers screened over a 20-year period, 74% of those who were diagnosed with a condition were able to continue playing after corrective procedures. This shows just how effectively many conditions can be dealt with once a screening is completed.
One of the benefits of being an athlete is having access to this kind of routine screening. However, all young members of the general population, including grassroots level athletes, need to have access to screening as well.
Thankfully in Jade's case, her diagnosis did at least bring more attention to the issue. "I think with one of us out of a potential 60 or 70 players [at the development centre] to have something like that, and then it would have to be operated on, I think it sort of hit home a little bit that it could happen to anyone… I think for the FA at the time that it happened it really sort of opened their eyes that they probably need to do more to make sure that women players within the leagues and the structures below are screened."
As Jade continued to talk about screening it was evident how much things need to improve in women's football. "I think for the Premier League players a routine screening is part of their medical to get signed at the club, but I know that's not the case in the women's game," she explained. "I think it was probably only a couple of years ago that the FA had to go around and make sure that the clubs within the women's Premier League that they had to make sure that their players had been screened. So, there's still a lot of work to make it mandatory within the women's game."
The need for all young people to be screened is something that Jade wants to make more people aware of, and a key reason why she wanted to support CRY.
"I think obviously being diagnosed with what I had, with two holes in my heart at a young age, opened my eyes that even though you're an athlete it doesn't stop you from having a potential heart problem. So I think that was a big thing for me that it doesn't matter if you're fit and healthy, you can be training to the best of your ability but still have something that's sort of under the surface that you may not be quite sure about. So that side of it was a massive pull for me [to support CRY], because it doesn't matter who you are, what you do, it's definitely something that you need to go and get checked out."