To help mark CRY's 25th anniversary, we were thrilled to introduce a new virtual event: the 25 Million Metre Challenge.
The aim of the event was to challenge people to collectively cover the distance of 25 million metres from February 1 (the start of Heart Month) to May 2, 2021.
We partnered with CRY supporter and myheart member Tony Eames, who originally created the Million Metre Challenge to raise funds and awareness for the charity. In 1991, when Tony was 12, he was diagnosed with long QT.
"As CRY continues to mark its 25th anniversary, we will be taking the opportunity of celebrating the achievements and milestones of everyone who has been diagnosed with a heart condition at a young age and who is living life to the full," CRY Chief Executive Dr Steven Cox said as the start of the 25 Million Metre Challenge approached. "As well as helping us to encourage all young people aged 14-35 to get their heart checked."
Supporters could take part as an individual or create a virtual team of 12 and complete metres by walking, running, cycling, rowing or swimming. 134 people (including some members of CRY's staff) all around the country took part, covering their distances in various ways to help us towards our lofty target.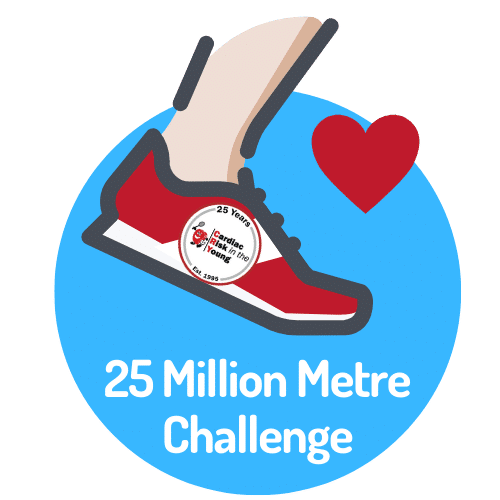 The event got off to a fantastic start as participants racked up over 15 million metres in the first month alone! As this momentum continued, we decided to be even more ambitious and double our overall challenge target to 50 million metres.
A combined total amount of 47,369,782.85m was completed! This is almost double the target we originally set out to accomplish and equates to travelling more than once around the world! It can also be equated to completing 1,122 marathons! A very fitting achievement for our 25th anniversary.
Through this challenge we also raised nearly £4,000 and excellent awareness, as supporters got active in their local communities and shared word of the event on social media.
Thank you so much to everyone who took part in this challenge! It was amazing to see this new event become such a success.