Living with long QT syndrome
Jessica Jane Goddard was born on the 27th July 2007. She was 3 years old when in May 2010 we received a phone call that would change her life forever…
My name is Rebekah Goddard and I am Jessica's mother. I was diagnosed with long QT syndrome in July 2001 at the age of twenty-five, after a series of massive seizures that starting occurring just after my eighteenth birthday. It was my father who effectively saved my life on the day of that first episode. When he found me, I wasn't breathing and didn't have a pulse. It was his quick actions and medical training from his RAF days that effectively saved my life. To this day my dad struggles to discuss what he remembers about the day he found me.
As a mother, I cannot even begin to imagine what must have gone through my parents' minds finding their daughter in such a way. Then later, discovering that the first initial seizure with long QT syndrome has such low survival rates… No parents should have to worry about burying their own child. This is now a worry that I have to deal with on a daily basis with my own child.
I married my husband Ian, two months after getting my own diagnosis of long QT, and having a pacemaker fitted. A couple of years later, we discussed the possibility of having children, and that's when I hit a stumbling block. At the time, there seemed to be very little information about pregnancy and birth, as well as the possible effects of my condition on my unborn child. So after gathering information to the best of our abilities and a lot of discussion, we decided that with a 50/50 chance of me passing on my condition, we should go ahead and have children.
Our first child, Grace Elizabeth Goddard was born by scheduled cesarean section at Yeovil District Hospital on 27th August 2004.
To say the operating theatre was packed would be a massive understatement! It seems the world and his wife had appeared out of the woodwork to witness Grace's birth. It was reassuring that so many people were there to help if required. Paediatric nurses, cardiologists, anaesthetists, medical students…
Ten minutes after her birth she experienced her very first ECG!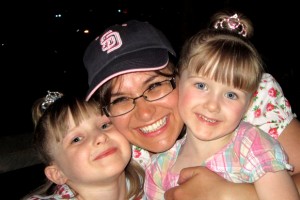 Aftercare was quickly arranged by the hospital for out-patients appointments to monitor Grace as she grew.
So far, so good.
Two years and eleven months later, the whole process was repeated for Grace's younger sister, Jessica.
When Jessica was five months old, both Jess, Grace and myself had bloods taken for genetic testing, which we were told could take quite some time. Yet the idea of finally knowing one way or another would mean that we could accept whatever the outcome, deal with it, and finally live our lives to the fullest.
As my mum always tells me, "fore-warned is fore-armed."
It really did take a long time for the test results.
But now we know.
I took the call from the geneticist's office completely out of the blue, on a Thursday afternoon. I remember it vividly.
I was asked if I wanted to wait to get the results until my next appointment at the hospital, however, I knew we had waited long enough.
It was funny, as when I was asked what my thoughts on what the test results would be, I instantly said, 'one has it, one hasn't.' The lady was shocked to say the least. I knew then that it was Jessica that had it and I told her as much. She was utterly dumbfounded. I don't know how I knew, I just did… Mother's intuition?
I put the phone down and sat for what felt like an eternity, but all too soon it hit me. I sobbed… A lot.
I felt relief for Grace, knowing she was free of it all, but mostly I felt guilt. Knowing it was because of me that Jess now had a difficult journey ahead of her. Not knowing where we go from here.
It turns out not only were the genetic tests positive, she has now had three or four 'dodgy' ECGs, showing long QT.
After spending the night in hospital on a telemetry set for monitoring her heart whilst on medication, she is now taking 13mg of propranolol twice a day; easier said than done with a three year old…
So here we are today.
She at least she has some protection now, although whether she will require a pacemaker later on down the line is still under discussion.
She also has something that I never did. Someone who truly understands… Right by her side, every step of the way. No matter how uncertain she will be feeling at times, I will always be there for her. I can hand on heart say that I know how she is feeling. Been there. Done that. Got the t-shirt!
Her story is ongoing, as is her life. But one thing we are certain of is we are not going to wrap her up in cotton wool. Life is to be lived, and I want to her to experience it to the fullest.