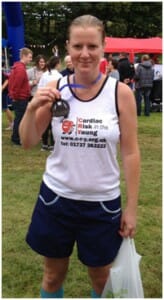 Earlier this year I decided to do a bit of a fundraiser, cheap but wanted it to be something a bit different. I chose these two charities as I worked for Deafblind UK and was involved with the important work they do for people with a combined sensory loss, and Cardiac Risk in the Young helped me when I was diagnosed with complete heart block caused by Cardiac Sarcoidosis, meaning I had to have an ICD (pacemaker) fitted at the age of 30.
I enjoy running so it was obvious to me to incorporate that into it, but I wanted to spice it up a bit. I enjoyed running the Caerphilly 10k last year as that is my local race and thought it would be a really good idea to help highlight to people the difficulties deafblind people have during their everyday lives. So I decided to run it wearing specs that replicate pinhole vision and also wearing ear defenders to replicate being hard of hearing. The thought of this made me quite nervous as its hard enough seeing to walk with the specs on let alone running with a couple of thousand other people.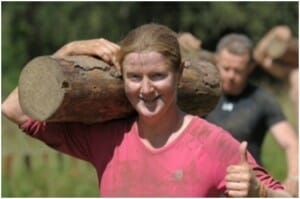 The race day came and all went without a hitch and I wore my new Deafblind UK running vest. I didn't fall over or trip anyone over which was my main aim. I got stared at and asked what I was doing and when I explained I got congratulated. You don't think about these things until you get told about them!
The next challenge was going to be an 11.2 mile assault course, Tough Mudder in Cirencester. This wasn't a walk in the park assault course, It incorporated a lot of mud, tanks of ice, carrying each other and people hauling you up over 2 metre walls. Pure grit and determination got me through this one! It was truly knackering and despite training I was stiff for days afterwards.
But a week later I was to do the final part of the challenge. My CRY vest went on for the first ever Severn Bridges Half Marathon. I'd not done one before so this was a good challenge in itself. The route was great with us running twice across the old Severn crossing. The training for this was long and hard and the race was very tiring. But I did it and I feel proud to have raised just over £850 to split between these two charities and help them carry on the great work they do.
Laura Lees
22nd June Caerphilly 10K
17th August Tough Mudder
24th August Severn Bridges