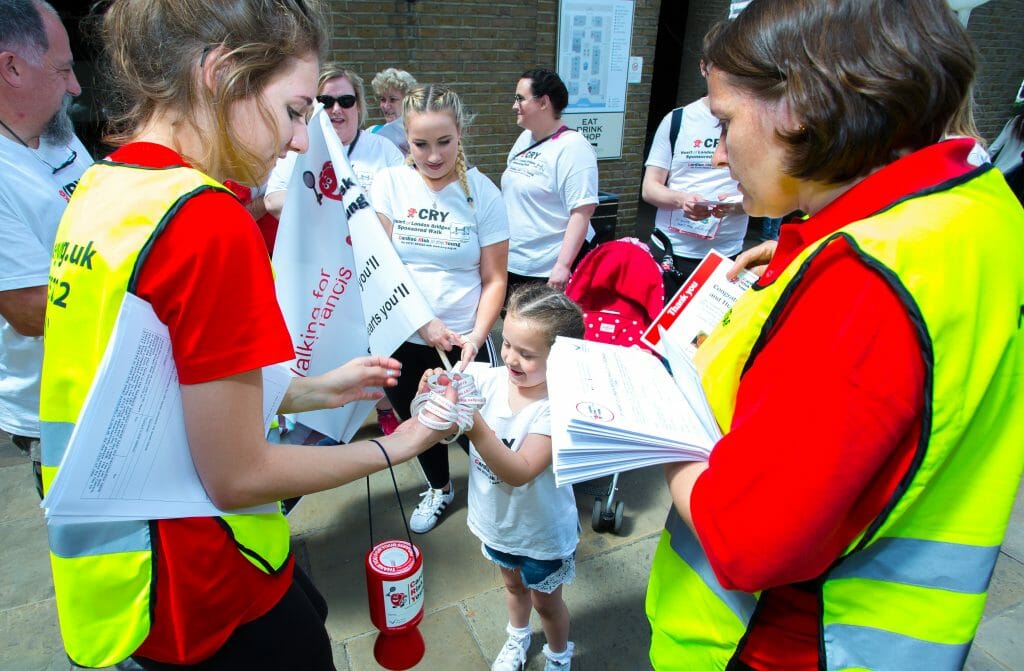 We are so grateful to our supporters who offer up their time. From being an official CRY 'cheerer' at a mass participation event, helping to marshal the route at the CRY Heart of London Bridges Walk, holding an awareness stall, sharing our key messages on social media, to volunteering at a UK festival – there are lots of opportunities to get involved by volunteering!
Events volunteering – Providing your help on-site at any of our events is a great way to get into the action of our fast-paced busy events! Our events include Simplyhealth Great North Run, Virgin Money London Marathon, Heart of London Bridges Walk and more!
Volunteering in your local community – Volunteering in your local community is extremely beneficial in raising awareness of the important work that CRY does.
Raising Awareness – Help promote CRY by distributing CRY general information leaflets/collection pots at your workplace, local school, leisure centre or in theatres, pubs, shops, doctors and pharmacies.
Social media – Follow myheart on Twitter and Facebook. By sharing any of our messages you are helping to raise awareness. Some members also help to raise awareness by sharing their own stories, including #myheartmystory
In-office volunteering – Our CRY in-office volunteers take on a range of practical and administrative tasks. We have limited space but are always grateful for an extra pair of hands in the office!
If you would be interested in volunteering some of your time for CRY, or would like to receive a volunteering information pack, please email volunteering@C-R-Y.org.uk