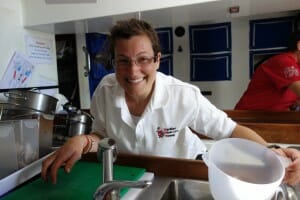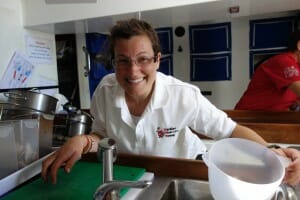 My name is Jennifer Hill, I'm 32 and writing this article on my return from Australia. Holidays in Australia may conjure up images of sun, sand, surf, sightseeing and sipping cocktails but for me there was endless sea salt, giant ocean swell, soggy clothes, battling storms in the Southern Ocean, relentless sail hoisting and constant sleep deprivation! It may not sound as enticing, but for me it was the trip of a lifetime…I was participating in the Clipper Round the World 13-14 yacht race!
The Clipper challenge involves twelve 70ft yachts racing around the world. The yachts are skippered by professionals but sailed by novices, who can sign up for the full circumnavigation or for individual 'legs'. I went out to Australia to compete in Leg 4 – to sail from Albany to Brisbane.
You're probably wondering why I chose to do this?
Well, in 2011 I was diagnosed with long QT syndrome (LQTS). It was a shock, a scare and I struggled to accept it. I know I am incredibly lucky to have discovered my condition, but the diagnosis, the surgery and the adjustments put my life on hold and that left me feeling like an alien in my own skin. I didn't feel so lucky and I suffered with depression for some time. At a low point, on a whim, I applied to Clipper. I knew of the race and I had dreamt about applying someday, but I don't think I had seriously considered it before. Spontaneously, there I was, applying, out to prove to myself that my LQTS didn't have to stop me doing things.
I needed to draw a line under what had been a difficult few years and I needed to immerse myself in a new challenge. I had lost myself and I was striving to be who I was 'before'. I needed to find the 'new' me, meet people who didn't know about my condition and who would embrace that 'me'. Most importantly though, I needed to fall in love with the new 'me'.
The Clipper race was my lifeline and to say it was incredible is an understatement. It wasn't 'plain sailing' though…
Initially my application was accepted. However, there was concern about the prospect of me being in such a physically demanding environment and without quick access to medical attention. My insurance was subsequently declined but I wasn't going to give up. I persevered for 5 months to gather input from numerous cardiac consultants, prepare for every eventuality and to educate all those I needed to. It was 'touch and go' for a while, but just days before my first training commitment I got a 'yes' from the insurance company – I'm proud that I was resilient to the setbacks and that I was determined not to give up.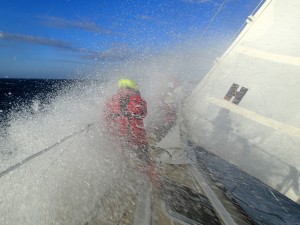 In terms of the race itself; imagine that you're locked in a caravan with a bunch of strangers on a fairground rollercoaster ride – one with an obstacle course along the way – and you're tasked to navigate your way safely to the end. A
dd to that the necessities of cooking, cleaning and fixing things as you go. You sleep for a few hours at a time, in a confined bunk with noise that sounds like someone is playing the drums on your head. You rotate the cooking and when it's your turn, you're required to provide for 17 people, from a very basic 'kitchen'.
Cooking at a 45 degree angle isn't easy when every few minutes you and your masterpiece are flung up in the air! There is no shower and you never fully get changed; you do layer up for 'work' every 4 hours though, but often into wet clothes. You also occasionally sleep in those wet clothes because you're too exhausted to take them off and the clock is ticking, sleep is precious! On deck, you pull ropes and tug sails with all your might, whilst waves spray in your face and you can't see or speak through it. Despite the gale force winds you help with whatever needs doing to maximise the boat's performance, it is a race after all! You steer, using all your strength to hold the wheel to fight the power of the wind and sea. One wrong move or slip of the wheel and you're off that rollercoaster track…
Along with all of that though came beautiful sunrises, mesmerising sunsets, playful dolphins keeping you company when there is nothing but sea on the horizon, strangers that quickly became like family and who provided lots of love and laughter when you really needed it. There are fun times surfing huge waves, scary times during squalls and a real sense of freedom and self-survival…the list could go on. It was challenging but exhilarating, truly magical and an experience I will cherish forever.
I'm thrilled to be writing this having achieved everything I set out to and more – I'm the happiest and most motivated I've been in a long time and that is because I've finally come to terms with living with LQTS, living with an ICD and living within my own comfort zones. Taking part in the race helped me to feel 'normal', I was just one of the team! I chose to tell people about my LQTS and I surprised myself in being able to do so comfortably and with such optimism. My decision to take part in the race was the best decision I've ever made: it gave me a chance to discover and love the 'new' me.
I hope my story inspires others to overcome their difficulties and to believe that as young, ambitious people they don't have to let their heart conditions hold them back. We just have to work out how to 'navigate' our way a little differently.
I self-funded my trip and decided to raise awareness of and raise money for CRY throughout my Clipper journey. My 'Clipper for CRY' fundraising is nearing £5000. To read more about this visit: www.c-r-y.org.uk/clipper-for-cry